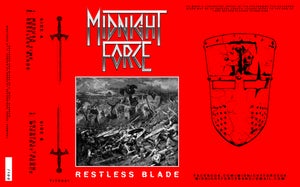 £

5.00 - On Sale
Debut EP from Scotland's newest heavy metal hero's. If you like your whips and chains with just enough patch jacket to cover up your Pantera tattoos then this is for you. FFO Medieval Steel and all those other once forgotten now beloved USA Power Metal bands.
Limited Edition 100 copies.
Red Cassette Shell.
Comes with sticker. You can sow this, along with your tape, to your special battle cape*.WOAH!
*It's possible it may destroy both the tape and the sticker, possibly the cape unless you spent some good money on it!